Since the dawn of the millennium I've been working in Change. Helping people to chill, take a step back, and find their natural groove.
And grew up in the 70's… I think it might show a little sometimes . . .
In 1992 started earning my living as a musician. Mainly playing session Bass Guitar. Later owning a recording studio producing and recording EDM (electronic dance music), while spending ALL my spare time learning everything I could about the mind. Meditation, Hypnosis, NLP, Shamanic techniques, Ti-Chi, Chi-Gong, Altered Sates of Consciousness, Accelerated Learning, Yoga… the list goes on.
At the dawn of the millennium I was working in the field of change. Helping people to quit smoking, lose weight (all the usual thing for a hypnotherapist)... then I started working with people helping them chill... take a step back, and find their natural groove.
That was during the day... and at night, I'd switched musician for performing a mixture of hypnosis, suggestion and magic (mentalism) at some very exclusive parties...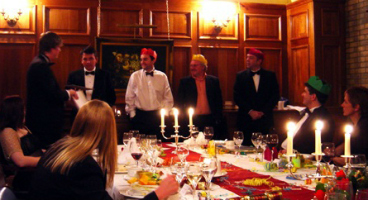 Rubbing shoulders with household names, a few well know celebrities and invited to perform at Buckingham Palace (long story... I turned that one down).
Neuro-Linguistic Programming (NLP) and Hypnosis seamed to be the fastest, most reliable way of helping facilitate change with people in my private practice during the day.
Continuing to learn, up-date my skills and make a difference.
In January 2005 I started assisting the Society of NLP at thier London Seminars. Since then I've assisted at over 60 Hypnosis and NLP Seminars with Dr Richard Bandler and the society of NLP.
Paul McKenna PhD too... I assisted at his UK events big and small, including at The Excel Centre and Wembley Arena. from 1 day events to 9-day training.
"John has invested over 3,200 hours of Continued Professional Development (CPD), in the last 16 years…"
Each year I spend many months in different countries, exploring and deepening my understanding of systems for transformation and change...
This year we've been taking the LIVE Hypnosis Lounge round the festival circuit in the UK.
A mix of Wellness festival and some pretty epic parties like Nosily: An inclusive haven where underground music thrives and self expression flourishes…
But let's be honest, its YOU, that you're more interested in... And specifically, what I can do for you.