Master Your Mindset & Breakthrough To The Success You Deserve
A

Creative

Partnership.

Strategically designed for getting you

RESULTS.

In just 12 weeks

.
Maybe you're a healer, yoga teacher, speaker or business owner and you know that the time is right to take that next step.
You've invested in yourself, you have skills, knowledge and talents.
Your, gift-to-share-with-the-world has a value.
You deserve to share your talents. Good-bye Imposter syndrome, negativity and doubts
You're ready to believe in your 'true value' because each time you do... the more you get.
You've reached 'that point' & are ready to take that Big-Step forward
Enjoying spending more of your time, living a more aligned lifestyle
Banish doubt and limiting beliefs, change your mind-set and start getting more of the results you want
Because deep down you know that it's ok to want more.  You deserve to enjoy more success. Rather than constantly being busy, or worse constantly hustling to get ahead, just left feeling unsatisfied.
There are different ways to live a passion filled beautiful life. There is a way to live a life more aligned with your true self. Living a life that resonates deeper with who you are.
Since the dawn of the millennium I've been working in change. Helping people to chill out, take a step back, and find their natural passion.
I believe we need to be BOTH a Human Doing
and a Human Being.
Life isn't supposed to be running at a million miles an hour, never really feeling fulfilled. Stuck in the rat-race trap.
Remember, your life is sacred.
You CAN live a meaningful life in this 'busy' modern world. Find your flow, the things that are important to you.
'Your own natural rhythm'
Breakthrough You is about helping You get that and more.
Living more Abundantly, Passionately and Happily. Living a life more aligned with who you really are.
Over the last 15 years I've seen more and more people dropping out of the 'rat race' and living a more aligned life. Focusing on their true priorities and changing them to live a life more aligned… one they enjoy.
The Breakthrough You program is for people who are at a point in life and are ready for change.
The Breakthrough You program is a 3 Month intensive course.
"To bring you back to yourself… in some ways this is a journey of self-discovery and growth."
Breakthrough You is an opportunity for you to relax. During our sessions you'll step away from your everyday busyness, gaining new perspectives and clarifying your desires.
Identify your limiting beliefs, challenges, obstacles and other issues that might be getting in your way. Create a custom strategies to move you pasts these challenges.
Basically You're READY.
You have a desire for a better life. You know there is a happier, more aligned version of you ready to breakthrough.
What's Included In Your 12 Week




Breakthrough Coaching

Program
1x Goal Clarifying Session
[1 hour video call]
In this clarifying session you will start to identify your wants and desires. What does 'living a Passion filled life' mean for you? What it is YOU want to achieve in the next 12 weeks.
And so the journey begins… 
9 x Breakthrough Coaching
[45 minute video calls]
Three times a month, for three months, we will connect for your Breakthrough Coaching sessions. With a Clear Mental Image of what you want, desire and action you'll become unstoppable.
You'll be identifying & ELIMINATING limiting beliefs and overcoming negative habits. Start moving past any challenges feeling more focused and energetic toward your goals. 
2 x Powerful Bonuses
[Tailored to Your Success]
Because research has proven that the combination of Coaching and Hypnosis is a far more effective solution than either on their own I'm giving you TWO Hypnotic Gifts when you join Breakthrough You today.
UNLIMITED On-Demand Streaming Access to the

Hypnosis Lounge
You're also benefiting from a Full 12 Months Membership of the Hypnosis Lounge.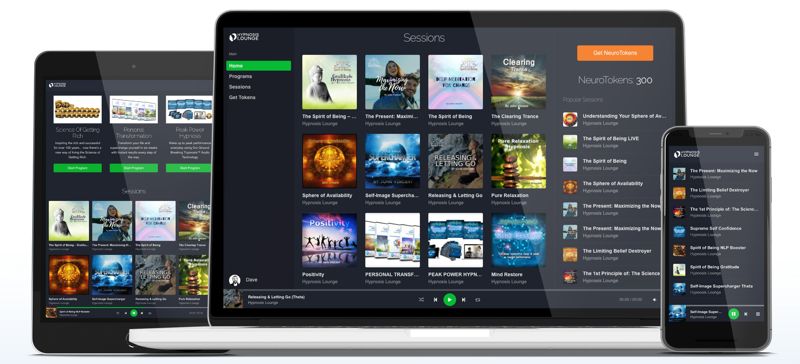 With over 50 titles, the Hypnosis Lounge features multiple hypnotic mediums, including full length Dynamic Hypnosis, Trypnosis, HypnosisSleep sessions plus extra PowerNaps and Guided Visualisations and CMP's.
With an ever growing Library of Transformative Hypnosis sessions covering motivation, relaxation, confidence, mindset, success habits and more.
You're get unlimited streaming access to all current and future Hypnosis Lounge releases with a FULL Years Access to the Hypnosis Lounge with this Breakthrough Coaching Program.
Your Personally Tailored Hypnotic Journey to

Unleash Your FULL Potential
What makes your Full 12 Months Membership even more special, is that you'll also receive my personal, tailored recommendations. A journey designed to help you overcome challenges, unleash your full potential and specifically chosen to help you achieve your goals.
In-between our Breakthrough You Coaching Calls (and in-between enjoying your life more and moving closer to your aligned lifestyle) you will receive a series of Hypnosis sessions that have been specifically chosen for you, and what you are looking to achieve.
These sessions will be the perfect companions for supercharging you and maximising your efficient actions. In our Creative Partnership, let's find your flow, Your Natural Rhythm. Start living a life more aligned, a life of passion.
And of course you'll be receiving my 100% dedication and support to you achieving your goals.
"...So if I use hypnosis I can download a (mental) program? I said yes, you can, that's exactly how you do it." Dr Bruce Lipton, author of The Biology of Belief
Creating

Breakthroughs:
Testimonials
"Your sessions were amazing. What I can tell you is that your sessions changed something inside me. I don't behave in the same way anymore. I am much more confident, and see problems in a completely different way. Thank you! a lot!"
Teresa S
"I was struck by the level of expertise and in-depth knowledge of NLP that John has as he effortlessly carries out interventions and is a master of the use of language and the NLP toolbox to effect change."
Rose E
"I have been very busy and productive.. I am now further now in my business within a pace of 2 days than it was in a week all thanks to your strategy and motivational works.  I will continue to follow all your techniques as they are so beneficial."
Chris C
"In all my time working with people and helping them make personal breakthroughs I had never seen anything work as fast as John can."

The Renegade Pharmacist aka Niraj Naik.
Living More

Abundantly, Passionately & Happily

. A life More Aligned With Who You Really Are.
Join the
Breakthrough Coaching
program to:
Eliminate limiting beliefs and overcome negative behaviours
Create a vision of YOUR future with CLEAR goals and outcomes
Implement an actionable plan for successfully maximising your potential & SUCCEEDING
Take your Goals to
Another Level

in 12 weeks with:
1x Goal Clarifying Session [1 hour video call]
9 x Breakthrough Coaching [45 minute video calls]
On-Demand Access to OVER 60 Hypnosis Sessions
Your Personally Tailored Hypnosis Journey
100% Dedication & Support to you achieving your goals
Let's Find Your Flow, Your Natural Rhythm.
&

Get RESULTS in

Just 12 Weeks
This Breakthrough Coaching Program is by Application ONLY.